Yes, I am THAT person who sees something pretty in a public restroom and takes a picture of it!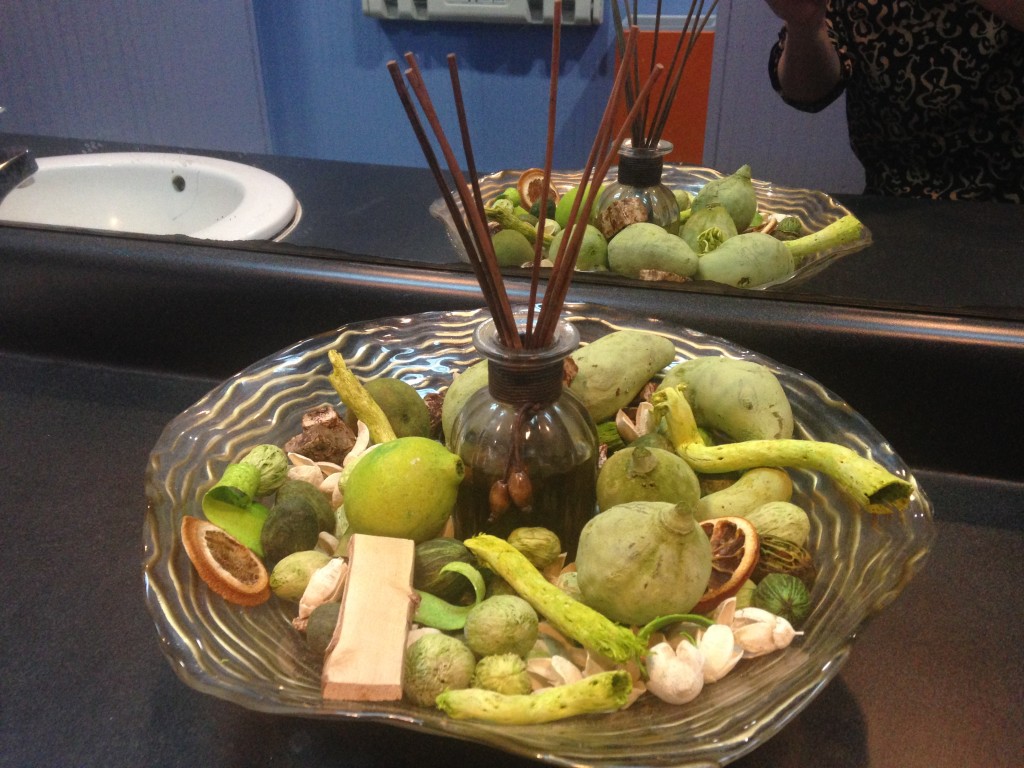 That's what happened last week when I was out to lunch, I saw this reed diffuser and thought it would be so simple to make and would make a great centerpiece on a table.
What you will need:
* A glass container with a narrow opening (make sure it's glass, essential oils can break down plastic)
* 5 Reed Sticks (If you're having trouble finding these in local craft stores, search for Reed Replacement sticks on Amazon. You can find some great priced ones on their)
* Carrier Oil- a thinner oil like Sweet Almond Oil will work, or you can do a mix of water and vodka)
* Essential Oil of your choice (I buy all of mine form Young Living. You can find out more about their oils HERE)
Directions:
* Pour 1/4 carrier oil into container (if using water, vodka mixture do-1/4 cup of water and 1 tablespoon of vodka. * Note measurements for carrier oil and water,vodka mixture will change depending on our big or small your container is)
* Add 15-20 drops of essential oils
* Place reed sticks in container. The oil will travel up the sticks, but to speed up the process you can flip the sticks after the bottoms are saturated.
* Enjoy!
Some of my favorite oils for diffusing:
– Purification and any Citrus Oil
– Joy
– Lemon, Lavender and Peppermint
– Lemon and Thieves
– Joy and Citrus Fresh
– Bergamont (my new favorite!)
– Bergamont and any Citrus Oil (great summer combination)
– Wintergreen
– Peppermint (this is my go to for cold or rainy days)
– Idaho Balsam Fir
{For more information on Young Living Essential Oils and how you can buy any of the oils listed click here}
{Disclaimer: Any suggestions made on this blog are very specific to Young Living essential oils and should not be used with oils from another source. Statements made on this website about Young Living Essential Oils have not been evaluated by the FDA. These products and information are not intended to diagnose, treat, cure or prevent any disease. Anyone suffering from disease or injury should consult with a physician. If you are currently on medication, please DO NOT STOP. For full disclaimer please click HERE}