Ok-let me tell you, Young Livings Thieves products are pretty awesome! I've slowly been changing out our products for ones from Young Living, and I can tell I'm loving them so far.
Here is some information on products we use from the Thieves line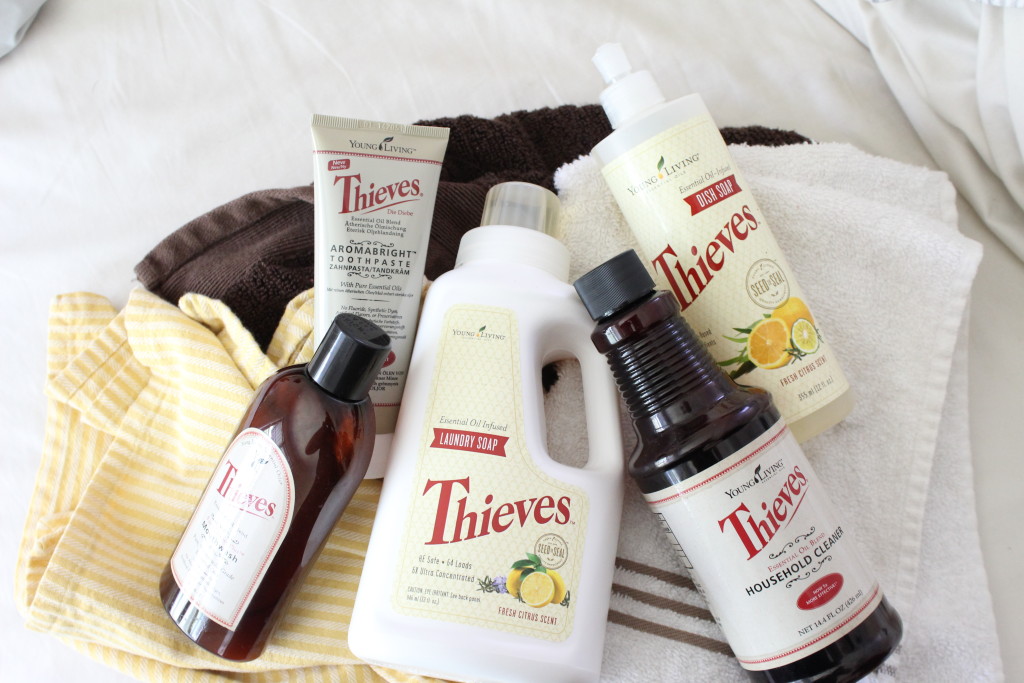 Thieves Dish Soap
+ Thieves® Dish Soap effectively cleans your dishes without chemicals, dyes, or synthetics
+ Young Living pure essential oils—Thieves®, Jade Lemon™, and Bergamot—work with other plant-based ingredients to leave your dishes sparkling clean.
+ A Plant-based formula free of SLS, SLES, dyes, formaldehyde, phosphates and synthetic perfumes
Did You Know: Methylisothiazolinone is a synthetic preservative causing some scrutiny for allergies, and it is found in many "green" household products, including dish soaps. Thieves Dish Soap has no synthetics; every ingredient is naturally derived.
Thieve Laundry Soap
+ Thieves Laundry Soap gently and naturally washes your clothes, leaving them truly clean without any chemical or synthetic residue.
+ Natural enzymes and powerful essential oils add to the formula's strength to leave your clothes fresh and clean with a light citrus scent.
+ Thieves Laundry Soap can be used in all washers, including high-efficiency, and its highly concentrated formula will provide around 64 loads with just 32 fl. Oz.
+ Use 1/2 cup for conventional washers and 1/4 cup for high-efficiency washer, use more as needed for large or heavily soiled loads
Did You Know: Many detergents add optical brighteners to make clothes appear brighter, which has nothing to do with cleaning clothes. Clothes only appear whiter and brighter because these additives reflect blue light, giving the illusion that your clothes are less yellow. These optical brighteners remain in the clothes and are against the skin when worn.
Thieves Household Cleaner
+ This works as an all purpose cleaner and can be used on anything
+ Thieves® Household Cleaner has increased cleansing power and an even safer, more sustainable formulation.
+ Thieves Household Cleaner contains ingredients from renewable plant and mineral sources, vegetable-based surfactants, and even more Thieves and lemon essential oils for extra cleaning power.
Thieves AromaBright Toothpaste
+ This 4 oz. premium, all-natural toothpaste is made with pure, therapeutic-grade essential oils, including the cleansing and protective benefits of Thieves® essential oil blend.
+ Its safe and effective formula provides a fortress of support for healthy gums, strong teeth, and a confident smile.
+ {Please note this toothpaste does contain Sunflower}
Thieves Fresh Essence Mouthwash
+ Thieves® Fresh Essence Plus Mouthwash contains a special formulation of essential oils that provides incredibly fresh breath.
+ The unique liposome technology (using soy-derived lecithin) binds the essential oils to the mucous membrane inside the mouth for longer-lasting effects on teeth and gums.
+ {Please note that this mouthwash does contain Soy Lecithin. I wasn't familiar with Soy Lecithin, but THIS article explains it well. For specific questions regarding the ingredients you can email Young Living product support HERE}
{For more information on Young Living Essential Oils and how you can buy any of the oils listed click here}
{Disclaimer: Any suggestions made on this blog are very specific to Young Living essential oils and should not be used with oils from another source. Statements made on this website about Young Living Essential Oils have not been evaluated by the FDA. These products and information are not intended to diagnose, treat, cure or prevent any disease. Anyone suffering from disease or injury should consult with a physician. If you are currently on medication, please DO NOT STOP. For full disclaimer please click HERE}