There are two things I like about winter. 1) Winter time makes for really cute clothing 2) It's a perfect time for soups. There are a couple of go to soups that I pull out on chilly days. Here are two of them (excuse the bad pics, A photographer I am not)
Granny's Rice and Tomato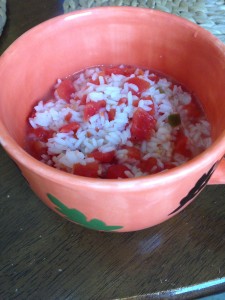 My Granny made this all the time. I can remember being at her house and she making this, us sitting in the living with TV trays watching T.V, eating rice and tomatoes and drinking diet Mt. Dew. I use to call her all the time in college because I never could get it to taste like hers. I've adapted the recipe throughout the years.
Ingredients:
1 cup of rice
1 can Rotel diced tomatoes and green peppers ( or just canned tomatoes)
1 Tablespoon Olive Oil
Meats (optional)
Salt and Pepper
Directions:
Bring water to boil and add rice
Let rice cook 3/4 until the water is almost evaporated
Don't drain-Add in canned tomatoes ( and meats if your using some- chicken and sausage work great)
Salt and Peper to taste
Heat to desired warmness
Mrs. Terri's Corn Chowder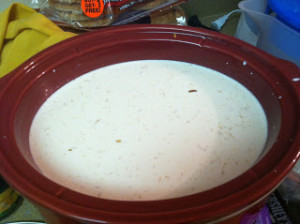 This stuff is great. But I will warn you, the onions do smell up the kitchen. It is easy to make because it can be done on the stove or in the crock-pot.
Ingredients:
2 cans of potato soup
2 cans of whole kernel corn
1 can of French Onion Soup
1 container of half and half
1 pound of bacon (I left out the bacon)
Directions:
Mix everything together. You can either cook on the stove or in the crock pot.
For the stove; heat and let simmer for about 30 minutes.
I used the crock pot and let it cook on low for about 5 hours and then turned in on warm. (If it is too thick you can add milk but whever I cook it, it always turns out nice and soupy).