Ok, so first off, If you have food allergies or restrictions Disney World is THE PLACE to go. I haven't gotten this whole "food restriction ordering" thing down yet and feel like I'm being so bothersome sometimes. But the staff at Disney was AMAZING!
First, whenever we made reservations for table service meals we added my food restrictions to the reservation. We also called the Disney Dining line and talked to the nicest lady and she was able to add my specific restrictions that weren't on the main page for us to choose.
I will say the table service meals were so easy. The quick service meals on the other hand were much harder to find something to eat. I pretty much stuck to a hotdog with a gluten free bun, fries and water. After a few days that can get old.
AllergyEats Disney World was such a great resource as we were picking out restaurants!
Here is a breakdown of all the places we ate!

Epcot Quick Service:
Lotus Blossom Cafe
There were only two things on the menu I could have, Shrimp Fried Rice with no Egg Roll and Vegetable Stir Fry. I went with the Shrimp Fried Rice. Because I had to order it without the Egg Roll and Cabbage they subbed a bottle water. This is great if you aren't on the meal plan because you can save $3.00 on a drink! They only have ice cream for dessert so I didn't get any of that 🙁
Epcot Table Service:
Le Cellier Steakhouse
I was very impressed with our waitress at Le Cellier! When we sat down I was given the allergen menu and the waitress was able to show me what I could and could not have and even had suggestions on how to change meals to fit my restrictions. I ended up having gluten free bread with diary free butter, the Le Cellier Filet Mignon with green beans since I couldn't have the mushroom risotto and for dessert I had the Strawberry-Basic Float. I am not a float type of girl, but I would go back for that float. It was delicious. (It could also be the fact that I hadn't had anything creamy like a milkshake in 2 months so my judgement may have been a tiny bit impaired by that, but not much because it was still amazing)
Teppan Edo
This was a last minute decision one night and it paid off. Before our orders were taken, the manager came out to discuss with me what I could have. Dairy is used a lot in their dishes so he really made sure he understood that i couldn't have dairy at all, not just milk. I ended up not being able to have their salad dressing or any of the sauces for the meats. So I had a plain salad (they brought me Red Wine Vinegar but I didn't use it) and Asakusa (steak and shrimp) with steamed rice and vegetables for my meal. The steak was very good. The chef prepared my food first so there wouldn't be any cross contamination. The only thing they had for dessert that I could eat was a fruit bowl. Not the best, so I would skip dessert next time.

Animal Kingdom Quick Service
Yak& Yeti Local Food Cafes
This was the only place we ate in Animal Kingdom. They didn't have a large selection of gluten free meals. I ended up having the American Kobe Beef Hog Dog with a gluten free bun, fries and a lemonade. For dessert I ordered the Minute Maid Frozen Lemonade Cup, but once I looked at the ingredients it had high fructose corn syrup so i didn't have that.

Magic Kingdom Table Service
Be our Guest Restaurant
What's great about Be our Guest Restaurant is when you eat there for lunch it's only considered a quick service! But you are inside at a table which is nice during the summer. And each part of the dining room is themed for a different part of the Beast's castle. For lunch I had a quinoa salad with vinaigrette. The salad included mixed greens, tomatoes, green beans, roasted red peppers, olives and beets and then had a side of quinoa. There was nothing on the dessert menu I could have, so they let me sub an appetizer. I had the French Onion Soup without cheese and croutons.

Hollywood Studios Quick Service
Backlot Express
As I've said, quick service meals were the hardest and it was no different at Hollywood Studios. The food lines were super long the day we went to Hollywood Studios, but they are doing massive changes to the park so that may have made if feel a little more cramped. We ended eating lunch at Backlot Express. For Lunch I had the Hot Dog with a gluten free bun and fries. The day we went, they only had one allergen menu that was being passed around to all the registers, so just know it can be a long wait.
Hollywood Studios Table Service
Sci-Fi Dine-In Theater Restaurant
This is such a cute little place and so accommodating. We were done with everything at the part by 4:30 and our reservation wasn't until 8:30. Scott went and asked if we could move up our reservations and since our reservation was for a party of 2 they were able to movie it without any problem. I was given an allergen menu but the waiter still insisted that the chef come out and speak with me. Am I'm glad he did! There were only a couple things on the menu I could have so he made me something not even on the menu! I had vegetable pasta and it was very good. It was a mix of asparagus, peas, diced tomatoes in a chunky tomato sauce with gluten free pasta. I read online that they have dairy free milkshakes, but since it was so early we decided against dessert. (I was Scott's birthday so they brought him out a cupcake with a candle on it!)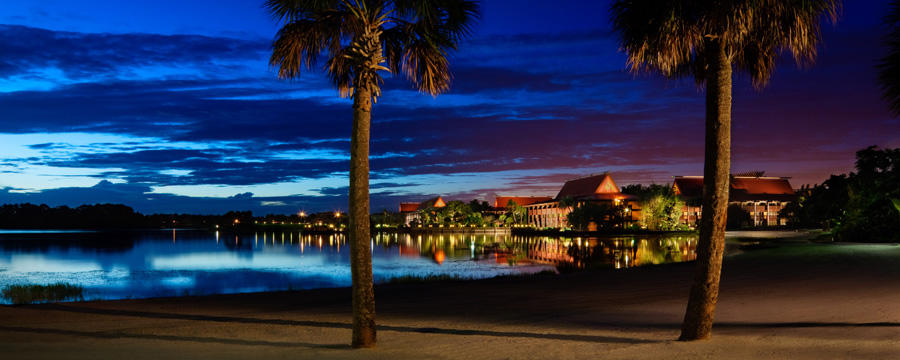 Disney Polynesian Resort
'Ohana
By far our favorite place we ate was 'Ohana! This was hands down the best meal we had. 'Ohana is a churrascaria style restaurant where they serve unlimited meat skewers for a fixed price. Both the host and the waiters said they wouldn't bring anything to our table until the chef came out. He was great to talk to and to my surprise I could eat almost everything. They brought me gluten free bread with dairy free butter. For the appetizers, they cooked me special chicken wings (Which I couldn't have because I can't have chicken right now 🙁 ) and brought out steamed rice and veggies. The salad was probably the highlight of the meal! They had to leave off some things that contained gluten but it wasn't a big deal. The dressing is fantastic and I could have made a whole meal out of the salad! (And I'm not one who gets really excited about salads) I could have all the meat with no special requirements made to it! For dessert I was able to have dairy free ice cream with Enjoy Life chocolate cookies! Seriously, food restrictions or not, you've got to get to this place!
Whoo, I think that covers all the places we ate! Have you been eating at Disney with food restrictions? I'd love to hear your suggestions!