Blueberry Scones for the Win!!! Ya'll, this is the first thing I have been excited about since starting the elimination diet! I'm not really a breakfast person, and when I do eat breakfast, I like it to be sweet- cereal, cinnamon roll, Burger King Hersey Sunday Pie (don't judge). But because I have to take medication in the morning, I have to eat breakfast. This weekend I came across this Paleo Lemon Blueberry Scone recipe and can I just say- it has hit the spot the past few mornings!!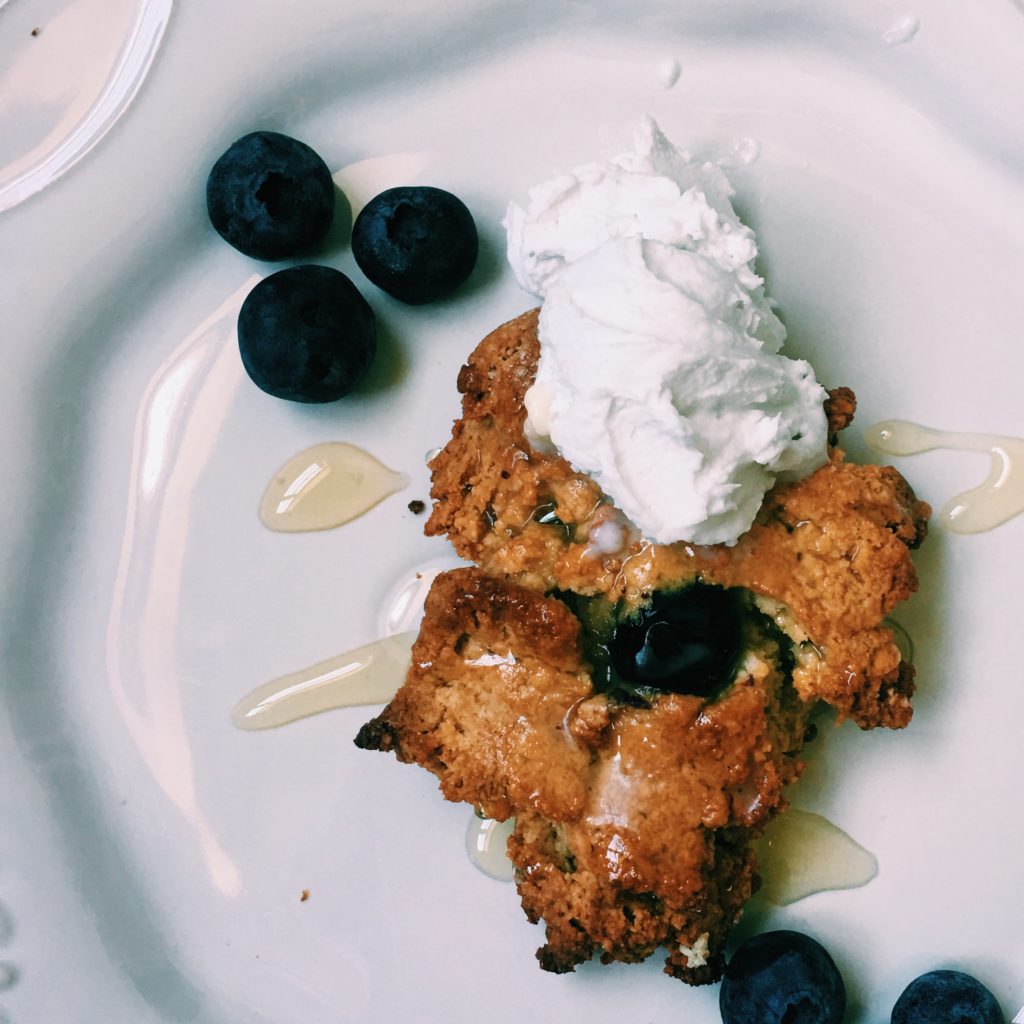 It's so simple to make! All you need is
3 cups Almond Flour
1 teaspoon baking soda
1/8 teaspoon sea salt
2 eggs
2 tablespoons honey
3/4 cup fresh blueberries
You can also add lemon to it by using the zest of 1 lemon and 2 tablespoons fresh lemon juice
1) You want to preheat your oven to 325 degrees
2) Add Almond Flour, Baking soda, salt and lemon zest (if you're using it) to a bowl and combine
3) Next you want to make a wall in the center and add your wet ingredients and stir until well combined. Then fold in the blueberries.
4) Next scoop out the mixture onto a baking sheet lined with parchment paper. You can make these as big or small as you want. The directions say they should be about 1 inch thick and should make about 10. I did mine a little smaller and they made 14. You can flatten them out by wetting your fingers with warm water and patting them down.
5) Bake for 18-20 minutes until the tops get golden.
6) Let them cool on a baking rack. To store, wrap in freezer paper and freeze. To reheat, preheat oven to 300 degrees and then bake them/ warm them up for 15 minutes.
I had one for breakfast on Monday and they were good but they needed a little something extra- whip cream! But since I can't have that I had to improvise. So I may Coconut Whip Cream
1) Take a can of full fat coconut milk and leave in the fridge over night.
2) Turn upside down, open can and pour out the milk. The solid coconut will be at the bottom.
3) Whip with a mixer or hand mixer until fluffy, anywhere from a few minutes to 10 minutes (the key to getting it fluffy like whip cream is to put your mixing bowl and wire mixer in the fridge for about an hour)
4) You can add in sugar and vanilla extract to make it sweeter, but I left it plain and just stored in in the fridge.
I like to warm one up each morning, put some dairy free butter on it, drizzle a little honey and then top with the coconut whip cream. They are so good, you may want more than one-but make sure to keep an eye on the calorie count, since almond flour can be high in calories.