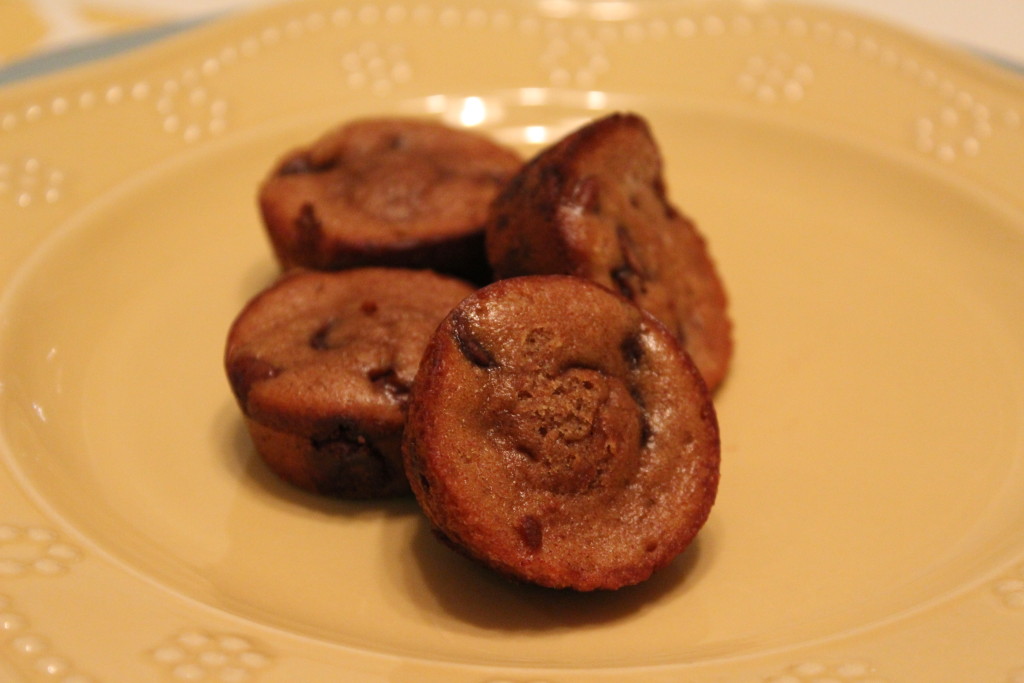 Cookies were the go-to snack growing up in my family. There's nothing like a warm cookie at night while watching a really good chick-flick! (Or growing up it was TGIF, you know you loved Friday nights!) So imagine my surprise/shock when I was at a friends house in college and his mom whipped up Chocolate Chip Muffins for the movie sweet treat! WHAT?!?!? Blueberries are suppose to go in muffins! But I will tell you, after that, those little things were quickly added to the list of late night snacks at my house!
So when I had these flour-less chocolate chip muffins in Sunday School, I knew I needed the recipe
I've only made the pre-packed chocolate chip muffins before- but these home made ones are delicious. And to make it even better-depending on what ingredients you use, can be gluten free!!
Here is what you need:
1 large egg
1/2 cup almond butter or peanut butter *
1 medium or large banana
3 tablespoons of honey
1 tablespoon vanilla extract*
1/4 teaspoon baking soda*
mini chocolate chips*
*NOTE: Please read the labels on these ingredients to make sure they are gluten free! Even products that are labeled gluten free may contain soy, which could lead to cross contamination. If you have a gluten allergy, Please err on the side of caution. These things are too good for you to get sick!
What to do:
1) Pre-heat oven to 400 and spray a mini muffin pan (If making GF, make sure your cooking spray is GF)
2) Mix first six ingredients in a blender until smooth.
3) Add as many or as little chocolate chips as you want and mix together (you can also add walnuts, coconut, whatever you would in normal muffins. I haven't tried fruit in these- so I'm not sure how that would turn out)
4) Spoon mixture into muffin pan and fill 3/4 full
5) Bake for 8-9 minutes or until toothpick comes out clear.
Eat and Enjoy
(It you omit the chocolate chips this recipe is a lot healthier)