#heresto30- that was my hashtag for my birthday weekend. Scott and I both got off early on Friday and headed up to Callaway Gardens for the weekend. Here are some of the highlights from the weekend.
Friday:
We headed out and checked into our hotel. The room was nice. We stayed in the 300 row overlooking the pool. If you stay there all rooms on that wing are conjoining rooms. Meaning they have doors that connect the rooms on either side of you together. Also the walls are paper thin, we could hear everything our neighbors were saying. We had to turn the air on all night and turn the bathroom fan on in order to get to sleep at night. Here are some of the views from our room.

Saturday:
We ate breakfast at The Country Kitchen. It overlooks the mountain and is beautiful.

Next we headed to the Treetop Adventure Zip line and Lake Course. The Treetop Adventure is a self guided obstacle and zip-ling course. Our instructor split us into three groups,those who wanted to go through the course fast, those would wanted to be at a moderate speed and those who wanted to go really slow. Scott and I have been zip-ling multiple times, so we chose to go fast and were put in the front of the line. Also, once you start the course you can't skip anyone. So if someone in front of you gets scared, or takes a while to go through an obstacle or zip-line, you are stuck waiting behind them. We left our phone in the car so I didn't get any pictures.
Next we started out on the 10-mile bike trail. We went a little off course and had lunch at Champion Grille. This is a casual restaurant that sits on the golf course. I was a little nervous about going in thinking we would need to be dressed 'golf appropriately', but you don't. There were other bike riders there as well as golfers and people just visiting the park. My favorite park of our bike ride was getting caught in the down pour and Scott's bike breaking about a mile from being done. We laughed so hard. I didn't get a lot of pictures from our bike ride because of the rain, but here are a few.

I wanted a nice meal for my birthday dinner but Scott and I didn't see anything we were crazy about at the 2 nice restaurants on Callaway's property. So Scott took to TripAdvisor and found Carriage and Horses Restaurant in Pine Mountain. Don't let the looks of this place scare you. It was delicious. Scott and I both had the Filet Mignon and it was wonderful. The chef, Dagher, was very nice. He came out and spoke with each table. He is the only chef there is, so you must make reservations. If you are at Callaway Gardens, this restaurant is a must.

Sunday:
Sunday we drove around Callaway Gardens and looked at all the attractions.

For lunch we ate at another local spot, 27th Grill. Scott had a pizza and I had chicken fingers and fries.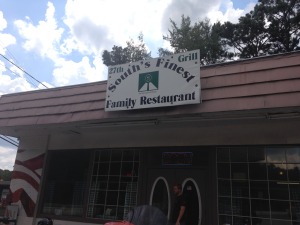 On the way home, we stopped in Columbus at Front Porch of the South Antique Mall. It is similar to Scott's Antique in Atlanta, just more thrift store and less antiques.