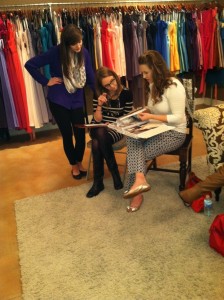 I'm certainly not an expert when it comes to wedding dress shopping. But I did go to three shops, almost cried out of frustration at the second shop, and finally bought my dress at the third shop. So as a current bride, right off the heels of dress shopping, here is my advice.
Familiarize yourself with the designers the store carries, but don't fall in love with a dress
Even though the shop may carry a particular designer doesn't mean they have every dress from that designer in the store. I made a list of dresses I wanted to try on from a particular designer – out of around 10 dresses the second shop I went to had two dresses in the store, and the third had none. If you fall in love with a dress, call the store to see if they have it in stock. If not, the dress may be available on a loaner program.
Keep an open mind and try on various styles
I said going into my appointments that I didn't want lace. Well Lo-and-behold, My dress is lace. Not the traditional lace dress that you would think of, but lace none-the-less. During my first appointment, I had no clue what would look good on me. So I tried on various styles. This helped eliminate certain styles and narrow down my focus.
Ask about alterations
I really wanted a corset back dress, but the second store I went to had mostly zip up backs. However, the consultant said that the dresses I was trying on could be turned into a corset back. You don't want to buy a dress and then have so many alterations that it's almost a new dress. If you love the dress but there are a few minor details you want to alter, see what type of alterations can be done.
Wear the proper undergarments.
Depending on what type of dress you're trying on, you're going to have a consultant you just met reaching up your dress pulling down tulle. It's wise to wear a cute pair of full coverage underwear. I took spanx with me, but I never put them on. Ask the bridal shop about bras. The first shop I went to supplied a long-line strapless bra (the one that covers your stomach). The others did not. I brought a regular strapless bra with me, but didn't use it. A lot of dresses come with bra's already in them or are made so that you may not need to wear one.
Shave
Since we just got done talking about a consultant you've just met reaching up your dress to pull tulle down, it's a great time to mention to shave. This isn't as important of a reminder for brides shopping in the summer. But for winter shoppers, I know we've been in sweaters and pants, but remember to shave.
Bring proper shoes
Even if you don't have your wedding shoes picked out yet, bring a pair of shoes that will be similar to your wedding shoe. If you know you want to wear flats, bring flats. Same for heels and wedges. I know I will wear something with quite a bit of height to it so I brought a pair of pageant high heeled shoes and wedges. I like trying on clothing with the same style shoe I will be wearing, so it gives me a feel of how the end product will look.
Tell the consultants what you are thinking
If you like a style tell them, if you hate it tell them too! They are there to help you find your perfect dress. One of the consultants I had told me to please tell her my thoughts and not to worry about hurting her feelings. Yes, they work at the bridal shop. But that doesn't mean they love every dress there. They are going to love things you don't, and you're going to love things they don't. Tell them your thoughts– just don't be rude.
If you have a short time frame, don't freak out
Scott and I are having a 6 month engagement. I started freaking out when I read that it takes 8-10 months for dresses to come in. I was worried about getting one off the rack, thinking it would be dirty and torn and I would have to settle for something I didn't like because it's all I had time to get. So much so, that Scott offered to move our wedding date to the fall so I could have enough time to find a dress (isn't he wonderful)! But I found a dress I loved and the shop was able to order it. My dress is a priority dress which means it has a faster turnaround time than other dresses. It took less than a month for me to get my dress, and that wasn't even ordering it rushed. Check with the bridal shop about which dresses can be rushed. And if you have to buy something off the rack, the bridal shop cleans and makes it as good as new. And you don't have to wait months to see it again!
Bring Accessories and Hair Items
Wear some earrings and bring a necklace. It's amazing how a necklace will help bring the look of a strapless dress together. If you have long hair, wear it down and bring a pony tail holder. I have always envisioned my hair down and curly for my wedding. However, one dress I tried on, I didn't really like it until I pulled my hair up. Something about my hair up and the veil pulled the look together.
Takes good notes and a lot of pictures
Have someone with you who is responsible for taking notes on the dress. The designer, the style of dress, the price, what you like about it and what you don't and in what order you tried it on. This is helpful, especially if you don't buy a dress on your first visit. If you are allowed to take pictures, take them from every angle. Some dresses look different in a picture than in person. Make sure you like how the dress looks in a picture, because that is what you are going to be looking at the most. A friend of mine did not want lace on a dress, she found a dressed she really liked, but when you took a picture of it, it looked liked a lace dress. So that was an easy way to eliminate that dress.
You may not have the "Say Yes to the Dress Moment"
If you don't have the 'you and everyone with you crying, jumping up and down' moment, that's fine. I'm sure most of the people who walk into Kleinfeld and Bridals by Lori don't either, but would we really want to watch a non-dramatic episode? I loved the color of the dress I picked, and once I put it on, I started comparing every dress to it. Not to the style of the dress, as I had at the other stores, but to the dress itself. At one point I almost said lets just stop shopping, not because I was frustrated, but because nothing else looked as good as the dress I loved. I put it back on and put on the veil and just wanted to stay in it. No one cried, no one jumped up and down, it just looked beautiful and I could see me spending my wedding day in the dress. (and it helped that it was bedazzled, not like the 90's bedazzling, but a sophisticated understated bedazzling). So if you love a dress, don't think you have to have that TV moment, you may, but you may not.
Take you groom into consideration
Ask your groom if there is anything special he would like to see you in. Are there styles he likes, styles he dislikes. Scott has watched 'Say Yes to The Dress' with me enough that I pretty much knew what he liked and didn't. But I did ask him if there was anything he wouldn't want to see me in. And he told me,so it made it easy when I tried on a dress to say-nope Scott wouldn't like this.
How did your dress shopping go? What advice would you add?